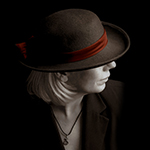 Kingston musicians Tracie Morgan, Spencer Evans , Adam Hodge , Brian Flynn , Christina Tracy, Stu Pike, and special guest Roger James reprise last year's highly successful performance of the words and music of Canadian singer/ songwriter / poet Leonard Cohen.
Hope you will be able to join us for this wonderful  tribute to the great Canadian icon Leonard Cohen.
Cancelled due to weather!