Randy Stewart Live at Old Church Theatre for SAin't Valentine's Day.
Randy's mantra has become familiar to music fans throughout the region: Sad Songs & Funny Songs, I DON'T PLAY LOVE SONGS. He's done for music what Anthony Hopkins did for romantic comedy.
Now he's got his sights set on Valentine's Day. There will be nothing but oxygen, nitrogen and carbon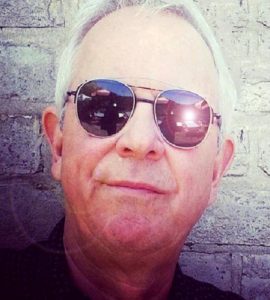 dioxide in the air when Randy takes the stage at the Old Church Theatre on behalf of the lovelorn, the lovesick and the romantically skeptical. He's hidden the roses, eaten the chocolates and, for good measure, he's tied Cupid up in the shed for SAin't Valentine's Day, a 'Valentine for the Rest of Us', something to sing about – that doesn't wear its heart on its sleeve.
SAin't Valentine's Day, will be presented at Old Church Theatre on Thursday, February 14 with a prix fixe dinner beginning at 6 PM – and the performance starting at 7 PM.
Randy Stewart is a Canadian singer/songwriter who has been performing professionally for more than 30 years. He has been seen on television, heard on radio and recorded by the CBC. His recordings can be found in the delete bins of some of the country's finest record stores – and his new song Buck-A-Beer is currently an internet sensation on Youtube. Originally from Northwestern Ontario, he now lives on a small farm outside Trenton Ontario.
"I've heard many times over the years, that Valentine's Day isn't necessarily a day that everyone looks forward to," he grins. "Well maybe I've found my calling."
His set list is an eclectic mix of country, folk, jazz standards and pop – along with some originals – all skillfully avoiding matters of the heart.
"There's a lot of performers out there singing about love and relationships – I'm just not one of 'em".
Tickets for this one-of-a-kind evening are $10 in advance and $15 at the door.
Or, for only $20, include dinner of Old Church chili, homemade biscuits and a choice of heavenly desserts.
Doors – and dinner – start at 6 PM. Show starts at 7 PM.