Northern Voodoo was originally conceived as an acoustic trio.  In 2008 Rett Wills and Mike 'Ace' Acerra  created a band suitable to play small venues such as The Old Church Theatre.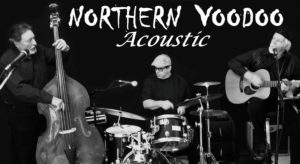 The trio evolved and with the addition of new drummer / percussionist Nick James, became an electric contemporary blues trio.
They have come full circle, back to their roots, to play fingerpicking tunes on acoustic guitar, upright and acoustic bass and percussion with brushes, bringing a jazzy low volume approach to their blues.  NV mix original tunes from their first two cd's with JJ Cale and Tom Waits songs.
Northern Voodoo will showcase that sound at The Old Church Theatre Saturday July 15th at 7:30pm…a 'pass the hat event'.