When:
February 9, 2019 @ 7:30 pm
2019-02-09T19:30:00-05:00
2019-02-09T19:45:00-05:00
Where:
Old Church Theatre
940 Bonisteel Rd
Cost:
$20 in Advance - $25 at the Door
Nigel Wearne is an Australian singer-songwriter, luthier, poet and gleaner. Equipped with personally handcrafted instruments, his music melds finger-style guitar, clawhammer banjo, folk and honest storytelling.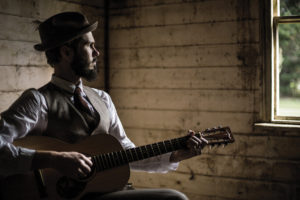 Gleaning diverse influence from Kelly Joe Phelps, Townes Van Zandt and Sun Kil Moon, he tells stories of forgotten rebels, wandering poets and his love of eggs.
Nigel has toured extensively throughout Australia and New Zealand and he's performed at a long list of Australian music festivals, including the Port Fairy Folk Festival, Adelaide Fringe, Cygnet Folk Festival and Queenscliff Music Festival. He's also shared shows with the likes of All Our Exes Live in Texas (AUS), Lindsay Lou (USA), Tennyson King (CAN), Jordie Lane (AUS) and the late great Billy Thorpe (AUS).
From stories of social justice and observation, to emotional reflection and historical tales, Nigel draws inspiration from everyday people from all walks of life. Some songs are autobiographical and personal, but many are other people's stories. For Nigel, music is a candid, human and important messenger for stories and moments in time.
Almost a decade ago, he spent 3 months travelling across Canada from west to east. From the Rocky Mountains, to the mosaic of Montréal and back to the graffiti adorned streets of Toronto, it was a trip marked with poetic meanderings and self-discovery. By the time he got to Halifax he had a bag of new songs that became his 2012 album 'Black Crow'. 'Black Crow' garnered wide critical acclaim including a 4 star review in Rolling Stone Magazine, a nomination for Best Country Album at The Age Music Victoria Awards and it debuted at #1 on the AMRAP Great Southern Charts.
In his first Canadian tour, Nigel will spend 3 weeks on the road touring his current album 'Drawing Circles', a solo record that's raw, compelling and reflective. With songs born of shadows and lucid reveries, the 14-song double album explores the dark corners of creativity and the irregular swells of life. A storyteller at heart, he paints lyrical pictures with "the narrative-fuelled prose of Paul Kelly" – Beat Magazine. "One of Australia's emerging songwriters" – Tone Deaf. "Warmth flecked with grit… beauty awaits" 4 Stars – Rolling Stone.