When:
November 16, 2018 @ 7:30 pm
2018-11-16T19:30:00-05:00
2018-11-16T19:45:00-05:00
Where:
Old Church Theatre
940 Bonisteel Rd. Trenton ON
Cost:
$21 advance - $25 at the door
Mayhemingways are an eclectic and full-sounding duo from the musical hotbed of Peterborough, Ontario. Their music drifts timelessly from folk-rock to traditional to country to something brand new. The band has been described as fuzz-folk with Cajun, bluegrass, and Celtic influences.
Tom Wilson of Blackie and the Rodeo Kings and Junkhouse writes, "Mind-bending and original music with deep roots in the tradition of dark North American folk."
Lead singer Benj Rowland switches between accordion, banjo, guitar, and tenor guitar while holding down the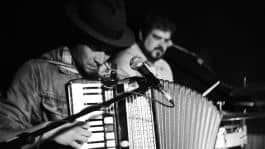 bass with foot pedals. Josh Fewings plays drums, percussion and adds back-up vocals.
Their first full-length album "Hunter St Blues" was just released this Spring and was produced and engineered in Nanton, AB by Steve Loree (Ian Tyson, Corb Lund, Petunia). The album is a follow up to their first EP (2013) engineered by James McKenty (Blue Rodeo, Cuff the Duke, The Weber Brothers) at former school house near Peterborough.
Mayhemingways have toured Canada relentlessly since forming in 2013. Coast to coast tours have become common place for the group. Like bands of old, on and off the highways, building a fan base across the nation with each tour. The duo performs in almost every province and territory in 2016. Their tours in Spring and Summer will include appearances at: Trails, Tales and Tunes Festival in Gros Morne, Newfoundland, Paddlefest in St. Andrew's, New Brunswick, and Wild Oats and Notes in Toefield, Alberta. .