When:
November 18, 2018 @ 2:00 pm
2018-11-18T14:00:00-05:00
2018-11-18T14:15:00-05:00
Where:
Old Church Theatre
940 Bonisteel Rd
Cost:
$21 in Advance $25 at the Door
Kingstown NEW Mississippi's music is rooted in the blues and sways from punk to rockabilly. We are loud and fast yet everyone from the "college" crowd to "senior citizens" have no problem getting involved and getting excited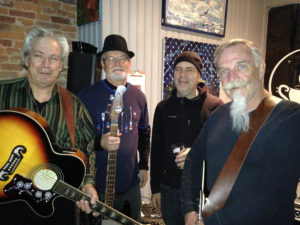 about the music. Great dancing happens at any age.
Earl "Street Corner" Coleman (lead guitar), Freddie Vendetta (vocal and rhythm guitar), Duke Dorey (bass) and Gary Lavallee (drummer) doing a little something new and original to the traditions of the Blues. You'll like where they are coming from and you'll like where they're going, especially, if you LOVE to DANCE. Yes! original music you can really dance to.