When:
September 26, 2018 @ 7:30 pm
2018-09-26T19:30:00-04:00
2018-09-26T19:45:00-04:00
Where:
Old Church Theatre
940 Bonisteel Rd
Cost:
$20 in Advance $25 at the Door
A Canada-Japan Jazz Exchange, two years in the works, is happening in September. While in Canada these fine Japanese jazz musicians along with Northumberland county's San Murata (violin) and Howard Baer (bass) will be coming to Old Church Theatre for a special, not-to-be-missed performance!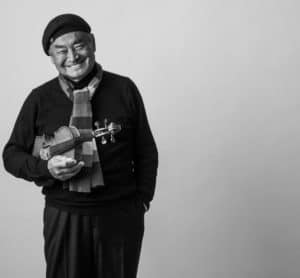 OUR HOSTS:
Japanese-born and educated, San Murata emigrated to Canada over 50 years ago and became a tennis pro at an exclusive club in Toronto. Soon he began working as a graphic designer and before long was Creative Director for a Canadian broadcast empire. When he reached the age of 50 San's creative energy was bubbling over and he began to teach himself painting and jazz violin. And it was in this time of life that San's love affair with Japan was rekindled. Now, almost 30 years later, San spends his time moving between his Canadian home in Northumberland and his Japanese home in Kumamoto.
On the heels of a 38yr career in studio recording as composer-arranger-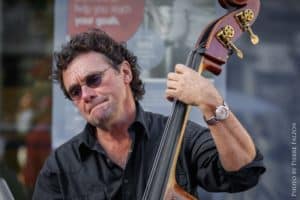 producer creating music for IMAX, CBC-TV, Solitudes and numerous educational music programs for kids, having had over 7000 of his arrangements recorded, and having been honoured with several JUNO nominations for his work, Howard Baer, a Warkworth resident, has changed musical direction. Previously a keyboardist, trumpet player and conductor, Howard now enjoys playing various styles of music: jazz, swing, blues, country, bluegrass, R&B, folk and classical …as an upright bassist. His main focus has been playing in various jazz configurations and coordinating music presentations for dining venues, festivals, weddings & special events. Howard has acted as Musical Coordinator of the Westben Jazz Fringe Festival for the past four seasons.
OUR SPECIAL GUESTS
Saxophonist Masashi Usui recently completed a Masters Degree in Performance at McGill University's famous Schulich School of Music, studying with the famous Remi Bolduc.
Guitarist and vocalist Naomi Sameshima mastered her Bossa Nova chops in Brazil.
Pianist Yasuichiro Yamaguchi was influenced by Bill Evans and began his career after attending Berklee College of Music.
Takahiro Toyoda has played piano professionally for over 40 years. He plays romantic French music in the style of Michel Legrand and is renowned in Japan for his work with theatre and NHK TV.
---