Harpdog Brown is a gifted vocalist and an imaginative harmonica player.  He is a three-time Maple Blues Award Winner (2014, 2015 and 2016), Fraser Valley Music Award Winner, three-time Western Canadian Music Awards Nominee, Juno Nominee and the only Canadian to win the coveted Muddy Award. In 2016 he was nominated for 3 Maple Blues Awards (Harmonica Player, Male Vocalist and Album of the Year) for his latest release Travelin' With The Blues. The album features a duet with Charlie Musselwhite and was produced by the Beale Street Blues Bopper himself, Little Victor with guest appearances from Kid Andersen, Big John Atkinson and more.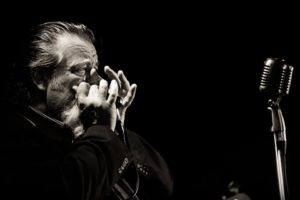 HARPDOG BROWN HAS BEEN CALLED A BLUES EVANGELIST:
And Blues Evangelist is a very fitting moniker. "I speak the blues like it's the truth, and it is" he was recently quoted. "I do feel like I'm a servant of the people. And I do heal people if they pay attention to the good messages in the songs I choose." He delivers those messages in the traditional sound of early electric blues. Think of the old Chess Records and Sun Records of the late 40's and early 50's. Harpdog says "Blues has a healing power. It's a beautiful celebration of our perfectly flawed lives. We help people forget about their issues of the moment and then they realize that we all have our issues, and that's ok."
Vancouver-based Harpdog Brown was born in Edmonton in 1962, an adopted child who has felt somewhat detached his whole life – "a lifelong battle of not feeling like I belonged. I think I was born for the circus, you know, born to travel. The blues tapped me on the shoulder years ago and said 'this is where you belong, son'. So the blues became my circus and there's no better way to travel than with a classic blues band!"
His recent album release Travelin' With The Blues has hit numerous roots and blues charts including Living Blues and holding steady in the top five Classic Blues Albums on Roots Music Report for North America. This follows his Top 20 charting 2014 release What It Is (Roots Music Report International Blues Albums).