When:
January 13, 2019 @ 2:00 pm
2019-01-13T14:00:00-05:00
2019-01-13T14:15:00-05:00
Where:
Old Church Theatre
940 Bonisteel Rd
Cost:
$25 in Advance $30 at the Door
Veteran performers Ginny McIlmoyle and Steve Piticco, singers/song-writers and guitar pickers, team up with Howard Baer on Bass for an afternoon of Country & Bluegrass at Old Church Theatre. For this performance they will be joined by special guest, award-winning Canadian Fiddler, Alanna Jenish.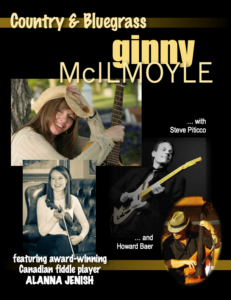 GINNY McILMOYLE
Ginny is well established in the Country Music Genere and has recently become a part of an up an coming bluegrass band called SWEETGRASS…always aiming high to achieve new music variety, and staying true too her country roots. 
Ginny grew up in rural Ontario working in the fields hoeing, and weeding crops on one of the neighboring farms as a young teen.
Finding love and settling down in her early 20's she devoted her time as loving wife & mom, working in health care. As a hobby Ginny often wrote poetry as a way of expressing her thoughts & feelings. It wasn't until her husband Jim bought her a guitar and with a little encouragement, gave her another direction in life.
Music became the bond in which the whole family could be involved in, as much or as little as they wished.
STEVE PITICCO
"I truly love Country, Bluegrass & Texas-Swing although I have played almost all kinds of music in my 39 professional years in the music business. I have been truly blessed to play with almost everyone I've grown up listening to. I love my 1976 Telecaster I bought new in Jan, 77 & still play it today. I play "Lead, Bass, Steel, Baritone, Dobro, Banjo" & pick an Accoustic & Mandolin. I play with South Mountain which is a band we started in 1989 & still tour Europe & Scandinavia every year. I am the only original, full-time member although most of what I do is, sessions & freelancing, live. I thank all of you, for your interest in my playing :)"
HOWARD BAER
On the heels of a 38yr career in studio recording as composer-arranger-producer creating music for IMAX, CBC-TV, Solitudes and numerous educational music programs for kids, having had over 7000 of his arrangements recorded, and having been honoured with several JUNO nominations for his work, Howard Baer, a Warkworth resident, has changed musical direction. Previously a keyboardist, trumpet player and conductor, Howard now enjoys playing various styles of music: jazz, swing, blues, country, bluegrass, R&B, folk and classical …as an upright bassist. His main focus has been playing in various jazz configurations and coordinating music presentations for dining venues, festivals, weddings & special events. For more information please visit baeronbass.wordpress.com.
ALANNA JENISH
An award-winning fiddle player, and accomplished classical musician, Alanna grew up in an Irish-Canadian family of traditional music lovers. Her musical journey began at the age of 6 when she started classical piano lessons, and soon expanded to include the fiddle shortly thereafter. With a keen ear and natural feel for the music, Alanna won her first junior fiddle championship after only 9 months of playing, and has since accumulated numerous awards and championship titles.
Now in her early twenties, Alanna has over ten years of performance experience under her belt, and is widely sought after as both a lead and back up musician. She has toured professionally with groups such as the Scott Woods Band, as well as The Great Canadian Fiddle Show,and maintains a busy schedule freelancing for numerous bands and solo artists. As a studio musician, Alanna has completed work for Canadian Country group Runaway Angel, as well as folk artists Hunter Sheridan and County West. This past fall, Alanna was honoured to be nominated as Fiddle Player of the Year (CCBAs).
As a classical musician, Alanna earned her Bachelor of Music with Honours from the University of Toronto in 2017. She completed her Grade 10 Royal Conservatory Violin Exam in 2012, and has also achieved advanced certification in Music Theory. Alanna has enjoyed playing in ensembles such as the La Jeunnesse Youth Orchestra (of which she was given the honour of sitting as concertmaster for two seasons), and the University of Toronto Symphony Orchestra throughout her undergraduate degree.
Alanna's dedication to her instrument, paired with an intuitive feel for the music has earned her great respect on the Ontario music scene.