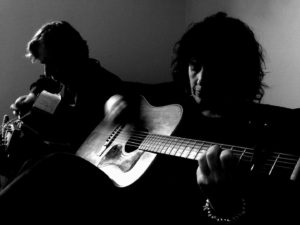 Marianne Girard and Allan Fraser share a collective 90 years of songwriting and performing. They return to The Old Church Theatre for one night of their remarkable musical chemistry. Over the past 3 years, they've been in artist residencies in Italy, Mexico and Germany, and have now settled in St. Andrews, New Brunswick.
Join them for another memorable evening of story and song, old and new.
"Best folk duo mix since Ian and Sylvia … when the voices and talents match up, the results are spectacular." – Bob Mersereau, CBC arts.
"The wonderful Allan Fraser finds a new partner in the remarkable Marianne Girard." – No Depression: The Roots Music Authority
GROUCHO MARX liked Allan Fraser's music so much he invited him for dinner at his home in the Hollywood Hills.
The New York Times said of Fraser's songs,
"…with this range of feeling, dense imagery and unexpected depth, these words may well find a place in the oral tradition of poetry."
Fraser's compositions have been recorded by Tom Russell, Garrison Keillor with Andra Suchy, of Prairie Home Companion, Cal Hand with Leo Kottke, Pat Donahue, Bill Hinkley and Judy Larson, The Duhks, Penny Lang and Ron Hynes.
NPR listed Allan's signature song, Dance Hall Girls, as one of the 10 best songs of all time. Songwriter Hall of Fame member John Oates recorded Dance Hall Girls on two recent albums which he calls a tribute to the songs that shaped his career.
Fraser is best known as one half of Fraser & DeBolt who toured extensively and recorded two influential albums with Columbia Records.
CANADIAN FOLK MUSIC AWARDS nominee Marianne Girard has recorded three solo albums and appeared on many compilation albums, as artist and session musician. She has toured her music in North America and Europe to such praise as:
"This Canadian Nightingale has not left my player in weeks" –RTL Radio Belgium.
"… a revelation … served exquisitely by a voice that's unequivocally pure and unrestrained." –Toronto Star
"Consistently stellar performance." –All Music Guide