Propelled by raw lyricism and earthy production, Dylan Ireland's debut solo album Every Other Night is a powerful statement from an artist ready to carve out new folk-rock terrain. Co-produced by Ireland and James McKenty (Blue Rodeo, Michelle McAdorey, Matthew Barber), Every Other Night's stellar cast of contributors includes guitarists Jim Bryson and Gord Tough (Kathleen Edwards), drummer Loel Campbell (Wintersleep) and bassist Anna Ruddick (Daniel Romano, Bry Webb, Randy Bachman).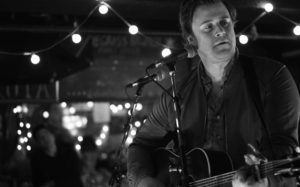 Standout tracks like "Hard Enough" and "It Goes Bad" rumble with the force of Kings Of Leon and recent Springsteen, providing the foundation for Ireland's gripping vocals. Elsewhere, the rough and ready twang of "Time And Again" and "Downtown Habit" reimagines classic Americana, much like Ryan Adams did upon leaving his band Whiskeytown. Then there are the atmospheric ballads "Behind The Scenes" and "Silver Screen," painted with broad strokes of haunting pedal steel, which reveal the depth of Ireland's songwriting.
The Peterborough, Ontario-based Ireland has already made his mark on the Canadian music scene through his former band Express And Company. Their 2013 album, Ontario, contained the single "Carry Me Along," which received heavy airplay on CBC Radio 2 and 3, and helped land showcases at the Mariposa Folk Festival and the Peterborough Folk Festival—he earned the Emerging Artist Award at both—as well as South By Southwest.
Overall, Every Other Night marks a new phase in Ireland's musical evolution, building upon his past work with a fresh and fearless songwriting approach now all his own. As Blue Rodeo's Greg Keelor told him, why have a band when you've got a rock star name?
Check out "Silver Screen"