Saskia Tomkins and Brandon Besharah  began playing as '2ish' because they wanted to explore the passion, intensity and excitement that playing together brought and to share it with others.  Saskia and Brandon bring the listener closer to all aspects of their show with playful banter and improvisation. Their music has found a home in both Folk and Jazz roots idioms. 2ish has released 2 Cd's: "Really" and "Whoteva"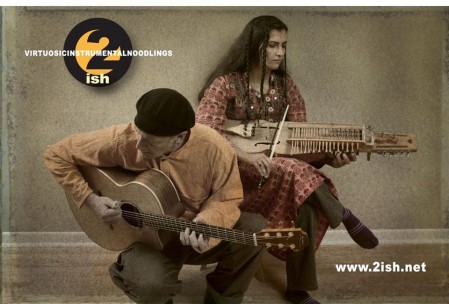 Introduced in 2007 by Saskia's husband Steafan Hannigan, he told them they should work together because they "would create magic."  After one gig,
they knew they were well matched in talent and ability, and the music seemed to connect on a much deeper, spiritual level.  They began
bringing their own compositions to the table and exploring them together, finding creative common ground; then writing together, a very personal
experience which neither  had successfully done with another musician before.
"A lot of work (and pleasure) goes into rehearsing the pieces. When on stage, we have the freedom to push limits as far as we are able, sharing the deep connection and fun that we have with our audience," says Saskia.
Both Saskia and Brandon are professional musicians. Saskia trained in classical violin and celtic fiddle, graduated with a Jazz degree, and has balanced the books by teaching privately. She has played and recorded for many songwriters, rock bands and dance companies, and frequently works in theatre. She also leads the viola section in an
orchestra. Brandon spent many years playing saxophone in jazz big bands and quartets. He worked on cruise ships and had carved a name for himself in the 1990s as a solo guitarist, which was cut off by a car accident after
which he had to relearn how to walk and play. Brandon is also a graphic designer and cartoonist – he designs all of 2ish's posters and CDs. 2ish is being recognized for their vibrant live performances.