Tony Vani has been making music in the Belleville area for decades. Folks in the music community know him as a versatile performer, cranking out blues and classic rock with the Stir, gospel blues with Tony Vani and the Holy Blues Band, solo performances and some work with slide guitarist Kenny Pauze.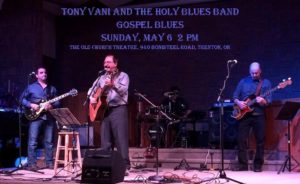 Get Tickets

Tony is a respected singer and guitarist, but it is his harmonica playing that really grabs me by the throat with harmonica lines that seem to emanate from the depths of a troubled soul. The best description for his playing is "authentic." I hear flashes of Charlie Musselwhite and the immortal Little Walter in some of his playing.
The Holy Blues band members consist of harmonica/vocalist Tony Vani, guitarist Matt Smith, bassist, Vitas Slapkauskas, and drummer Chris Lingard. Join them as they interpret the likes of Gospel Blues singers Fred McDowell, the Staple Singers and Reverent Gary Davis in a rootsy style that's clearly close to their heart as well the bands R&B musical roots.