'Tis the season to enjoy the gift of fantastic live music and to give back to the fine musicians who perform it for us.  We are having a "Donations-to-the-Artists" night of seasonal, traditional, folk, original and over all, a top notch variety of music.
Featuring:Saskia Tomkins, Lotus Wight and Luke Mercier.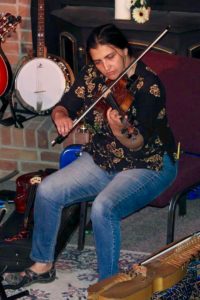 Saskia Tomkins, from the UK, moved to Ontario in 2007 with her family, bringing with them a wealth of musical talent and experience. Saskia's musical abilities on bowed strings are wide ranging, from classical to celtic, to gypsy-jazz, to songwriter accompaniment. After seeing Stefan Grappelli perform 3 times, she completed a BA in Jazz and popular music.
She has played with countless artists in many genres, including Uriah Heep's 30th anniversary concert, improvising with dancers at Sadler's Wells Theatre in London and learning cello for Michael Bogdanov and the English Shakespeare Company. She has recorded on over 60 albums for other artists and several with her own groups. Saskia is also the All Britain Champion for Irish Fiddle.
Saskia will be playing Violin, Viola and Nyckelharpa for this concert.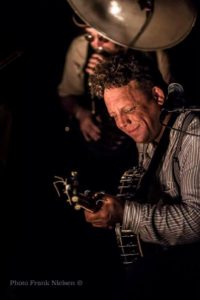 In the decades which book-ended the turn of our century, Lotus Wight embraced the music over which he had obsessed since his childhood. He traveled and dwelled in the cradles of their conception and birth. The Carolinas, the Mississippi Valley, West Virginia, Kentucky, and New England fed him the sounds of tradition and helped to form his musical life.
Lotus is a songster, poet, fiddler and bluesman. Lotus currently holds the banjo chair for renowned international retro-nauts, Sheesham, Lotus and Son His thought-provoking show includes stories, jaw-harps and his controversial contrabass harmoniphoneum. Lotus has produced recordings for children's television, animation projects, and JUNO award winner Jenny Whiteley.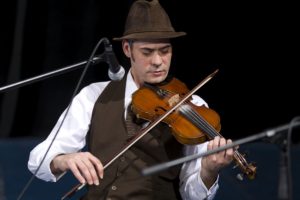 Luke Mercier is master violin maker / restorer and an accomplished musician / composer residing in Spring Brook On.  His musical interests range from classical piano to Traditional Folk Roots and Country-Blues music where you may catch him playing fiddle, banjo, mandolin or singing with his guitar.