When:
November 3, 2018 @ 7:30 pm
2018-11-03T19:30:00-04:00
2018-11-03T19:45:00-04:00
Where:
Old Church Theatre
940 Bonisteel Rd
Cost:
$20 in Advance $25 at the Door
The Old Church Theatre presents an evening (and an afternoon) of one-act plays by Belleville playwright Peter Paylor. Together, the three plays are guaranteed to take the audience on both a theatrical and an emotional ride; one's pure comedy, another's pure drama, the third walks the fine line in between. At the heart of each is the same basic question: What do we really know about the people we meet or, for that matter, what do we know about the people we see day after day? It's a simple question, but the answer is not always as simple as it seems.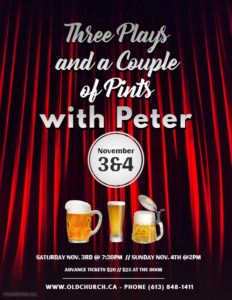 The Plays:
"Six Feet of Earth" directed by Mihal Zada, starring Ruth Laliberte and Rebecca House
"A Generous Gift" directed by Lesley Bonisteel, starring Victoria Farrell and Bill Petch
"The Man in 2B" (revised) directed by Lisa Morris, starring Darren Moore, Wendy Roy, Matthew Sheahan and Matt Whiting