Sublime, genre-defying musicianship.  The Red Dirt Skinners are the first band in history to succeed at both the British Blues Awards and the British Country Music Awards.
Drawing on influences as diverse as Acker Bilk and ACDC, this unique duo are breaking all the rules and creating a whole new sound. Without fail, audiences are on their feet at the end of a Red Dirt Skinners show, and all are saying the same thing…"that's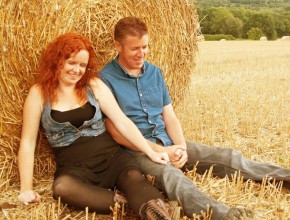 refreshingly different".
Here's what people are saying about their album called BEHIND THE WHEEL :
"Divine Harmonies, the Red Dirt Skinners just keep getting better and better. I love them to bits. Quality music". Dave Raven, the Raven and Blues Show
"Now five albums to the good, Sussex husband and wife combo Rob and Sarah Skinner have reached a career zenith with Behind The Wheel. Its nine songs exude confidence in writing, performance and production" David Innes, Blues And More Again
"This album is delightful. I'll be listening to this for some time to come". Andy Snipper. Music News.
"Behind The Wheel is a beautiful, mature piece of work by two class musicians. Make sure you put it on the top of your shopping list." The Blues Man in the Hat. Blues in Britain Magazine.
"A glittering ride of originality full of integrity, inspiration and individuality." 10/10 Bluesdoodles.
"Simply get this CD ASAP and listen to the accomplished musicianship and cool vocal harmonies and try not to force it into any other category than "excellent"" Ian McKenzie, Blues In The South
"Is there a genre called Damn Fine Music? If so, that's where you'll find this." Paul Stewart, Pablo and the Blues show, My Rock Radio
"Fantastic! The harmonies stick out a country mile in a very good way. Thanks for sharing with me and my audience". Paul Smith The Blues Show. Harbour Radio
"I thoroughly enjoyed it from start to finish and I love the diversity" Allan Watkiss, UK Country Radio
"I have it on continuous play in my car at the moment. I simply love the whole album. Every song is so well crafted. The recording is superb. Every song has depth and meaning. It truly stands head and shoulders above anything around at the moment." Nigel Thorne, Blue Horizons, Radio Vera Ireland.
"I love the album. That saxophone melts my spine!" John Brown Lionheart FM
nt".