Widely regarded as one of the most innovative acts to come out of the UK in recent years, the sublime genre-defying sound of the Red Dirt Skinners is created by husband and wife team, Rob and Sarah Skinner.
After 5 successful Canadian tours, the Skinners were invited to become permanent residents of Canada. They took up this offer in August 2017 and have made Eastern Ontario their new home.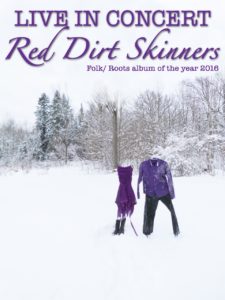 "Musically set apart from the mass of bands who are just copying what has gone before" Music News 4/5
If you like songs influenced by Pink Floyd, Simon and Garfunkel, Supertramp, Crosby Stills and Nash, David Bowie coupled with some epic storytelling, humour and heartfelt emotions, you'll love the Red Dirt Skinners
The Red Dirt Skinners have had success in both National and International awards in several genres. The Skinners' refuse to be pigeonholed; their audiences always describe them as 'refreshingly different'.
Drawing on influences from more genres than would make sense to list, the Red Dirt Skinners' sound is instantly recognisable.
Comfortably blending exceptional, almost telepathic, harmonies with the unique instrumentation of soprano saxophone and acoustic guitar, audiences fall in love with the Skinners sound.
Hailing originally from the South East of England, Rob and Sarah have both been musicians for the majority of their lives.
After winning Instrumentalist of the Year at the British Blues Awards in 2014, Sarah became the first female artist to be endorsed by Trevor James Saxophones.
"The space where the vocals of Sarah and Rob Skinner meet features two tones existing as a single note". The Alternate Root Magazine
From small beginnings in small venues, the Red Dirt Skinners swift rise in popularity sees them now commanding theatre audiences across Europe and North America. A Red Dirt Skinners concert combines captivating storytelling with knowing lyricism and outstanding musicianship.
Discography
2018 – Under Utopian Skies
2016 – Behind The Wheel
2014 – Live In Aberdeen
2013 – Sinking The Mary Rose
2012 – Home Sweet Home
2011 – Grass Roots