SHARPEN THE ACTS – PART III
Each performance, four original one act plays.
Experience four curated plays by local writers in a unique, rural venue.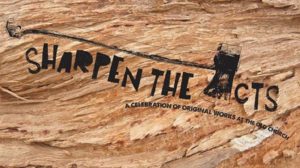 Performances:
Friday July 13th @7:30 PM
Saturday July 14th @7:30PM
and Sunday July 15th @2 PM
"Loser Lunch" by Penny Barker.
Directed by Ian Feltham. Starring: Gerry Fraiberg, Scott Roodvoets, Heather Muir, and Heather Barker.
A lot of people don't win the Lotto. In fact, most people don't win the Lotto. It is only the rare few that have their numbers drawn and can leave their jobs to retire in splendour. It is equally rare to be the few left behind on the shop floor when everyone else wins big. The Losers … waiting for the Loser Lunch.
"Post-Mortem for a Planet" by Jack Evans.
Directed by Peter Paylor. Starring: Judie Preece and Penny Barker
It's been thousands and thousands of years since the twins were left in charge of Good and Evil on earth, but now the last mortal creature has bit the dust and it's time to compare notes and report back to Mother. Lofty business, but it's a story most of us can relate to in the end – just two siblings getting together over a drink, wondering what Mom's up to now.
"Baby Orchids" by Lise Lindenburg
Directed by Matthew Sheahan. Starring: Rebecca House, Mihal Zada and Jamison Picard .
Susie is trying to help her deadbeat, but lovable brother, Louis, get his life on track, all while getting ready for the orchid show. Can she help Louis and his girlfriend, Jackie, get things on track? What secret has Jackie shared with Susie that makes that more difficult? And where does Slim fit in?
"Pigeon Speak" by Beth Milligan
Directed by Lisa Morris. Starring Brian Weston and Kathryn Dalmer.
Sam and John…just two guys hanging out downtown. Shooting the breeze. Checking out the shops. Talking about life and love and fashion and food like guys hanging out tend to do. Did I say guys? I meant pigeons. Sam and John…just two pigeons hanging out downtown. Shooting the breeze…