SOLD OUT!
Born and raised in the hotbed of musical tradition and innovation that is Ontario's Ottawa Valley, Kelli Trottier discovered her passion for entertaining, learned her craft, and developed her distinctive style while still right at home.  
Now, Kelli's talent carries her to stages across North America, Europe, the Middle East, and the Far North, making fans and friends at every venue along the way.
We're happy to have Kelli back at the Old Church, this time as a duo with our own favourite sound engineer Andy Thompson and Kelli's own sideman and man of 1000 talents!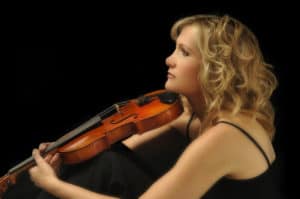 Kelli Trottier is a triple threat with her angelic voice, crisp fiddling and fiery step dance.  She has performed for Sean Connery, for our Canadian Military and has toured North America and beyond as a featured soloist with Bowfire for nine years.  With ten independent recordings and three nominations for Fiddler of the Year with the CCMA, Kelli is an unforgettable and enchanting artist.
Andy Thompson is an exceptional musician and music producer.  He has worked with Kelli as a keyboardist and vocalist on stage and in the studio for many years now. He is a composer of music for film and TV and to date has almost 300 film scores to his credit. Along with his own video production company, he is the owner and operator of Northumberland Music Studio near Warkworth Ontario. He is the musical director and producer for numerous artists including Canadian country star George Fox and has produced all 13 albums for the popular musical comedy trio The Arrogant Worms.
www.northumberlandmusic.com             www.aaevideoproductions.com
 "I wanted you to know how much we enjoyed your concert tonight. It was a wonderful evening and your natural style with the audience made it extra special.  As we listened to you, many of us had the feeling we were witnessing a great Canadian talent about to skyrocket, and we were there to see the launching!"
No stranger to the stage, Kelli was featured as the lead female in the Toronto musical production SwingStep.  She is currently touring North America with the very successful Bowfire entourage. Kelli's soaring vocal pieces are, for many fans, a highlight of the Bowfire productions, often described as "The finest lineup of fiddle and violin virtuosi ever assembled on one stage."
Kelli has performed for Canadian soldiers in the Middle East and for the Inuit of the Canadian Arctic.  She has brought twenty thousand NHL Ottawa Senators Fans to their feet many times as the featured mid-game entertainer.
In addition to her extensive performing experience, Kelli continues to be a highly sought-after instructor and judge of fiddle and stepdance events across Canada and parts of the U.S.  She has been nominated three times for Fiddle Player of the Year by the Canadian Country Music Association and is featured instrumentally and vocally on many studio recordings for other artists.
All of this experience is focused on Kelli's true passion:  performing and touring her music with her band.  Time and again these performances earn glowing reviews, requests to return and always more fans!
"Your show was fantastic, I was thoroughly impressed, the band was unbelievably tight."
 "In reviewing the DVD of your concert, I hope you notice the audience's overall response to your show!  You and the Mushy Peas put on a fabulous performance and the club wants you to know how much they appreciated the stage presence and talents you displayed that evening. Your professionalism made the show so well received and successful"

Promoting her six independent recordings; singing, dancing and playing her way to the top of her musical genre, Kelli Trottier is an unforgettable and enchanting artist, consistently delivering performances that raise her stature in the hearts and memories of audiences everywhere.