Jadea has invited the talented Masha to open the concert for her at the Old Church.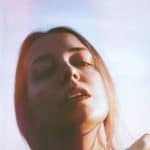 Originally from in Minsk, Belarus, Masha is a well-traveled performer, touring through Rome, London and several other European cities in recent years. At only 20-years-old Masha has settled for time being in Prince Edward County, Ontario and performs at different wineries and pubs throughout the summer.
However dark the muse, Jadea Kelly's music guides the listener on a prolific journey towards light and surrender. Swelling with vocal hooks and ambient guitar delays, her most recent release, Love & Lust is an honest and compelling catalogue of infidelity, desire, betrayal, forgiveness and human frailty. Receiving the 2016 'Contemporary Singer of the Year' by the Canadian Folk Music Awards, Jadea continues to spend her time living and writing between Toronto and Nashville. Her body of work has earned a number of impressive worldwide reviews and radio play, with tours across North America & Europe. She has performed at a number of Canadian festivals and high profile venues including the Calgary Folk Festival, Edmonton's Interstellar Rodeo, Elora Ontario's Riverfest with Blue Rodeo, The National Arts Centre in Ottawa and the Massey Hall Presents concert series in Toronto. Jadea Kelly's 'Lone Wolf' has been featured on TV shows such as "Bitten" aired on the SyFy Network in the U.S. Most recently, 'Beauty' from "Love and Lust", was featured as the accompanying song to a powerful final day opening montage on CBC Television, a tribute to Canadian hero Terry Fox for the Rio 2016 Paralympics.
Raised in Whitby,ON, Jadea is known most prominently for her vocal work with JUNO Award-winning Canadian folk artist Catherine MacLellan, as well as JUNO Award-winning Canadian metal band Protest the Hero. She has toured across Canada countless times performing at a number of Canadian festivals, such as the Calgary Folk Festival, Edmonton's Interstellar Rodeo, Elora Riverfest with Blue Rodeo, Peterborough Folk Festival, Shelter Valley, Stewart Park Folk Festival and Wild Mountain Music Festival. She has toured throughout the United States supporting Canadian duo Whitehorse as well as across Canada with Royal Wood & Catherine MacLellan.