Urban Renaissance artist  Lisa Morris brings her creative skill set to a new workshop at the Old Church Theatre.  Bead, Beer, Wire and Wine will challenge the boundaries of your imagination with the alchemy of what makes spectacular wearable art.  Computer parts, old jewelry, wire, rubber, cutlery and glass are only a few materials this gifted artist can manipulate.  A sculptor, director, playwright and painter, Lisa sees the world as a treasure trove of raw materials that can be reformed into beautiful objects.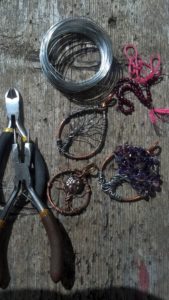 Don't miss this first workshop,  Twisting a Tree if you want to trigger your artistic instincts.  Lisa will cover some of the basics of twisted wire jewelry as you make our own tree.
Registration is required and the $25 fee includes all materials required.