Barry will be performing and telling some stories about his short but interesting time playing professionally in the UK in the early sixties. He will also tell how he obtained his 1962 Gibson J45.
"I was fortunate to be around if you can say that in the early sixties playing the guitar with local bands. At the age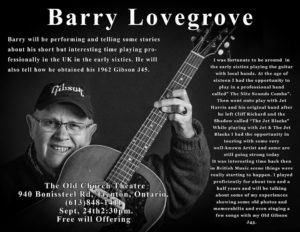 of sixteen I had the opportunity to play in a professional band called" The Nite Sounds Combo".  Then went onto play with Jet Harris and his original band after he left Cliff Richard and the Shadow called "The Jet Blacks" While playing with Jet & The Jet Blacks I had the opportunity in touring with some very well-known Artist and some are still going strong today
It was interesting time back then in British Music scene things were really starting to happen. I played proficiently for about two and a half years and will be talking about some of my experiences showing some old photos and memorabilia and even singing a few songs with my Old Gibson J45.
 Find out more about me on my website: www.barrylovegrove.ca"