Three Diverse Women Recording Artists, One Great Show.  If variety is the spice of life, then this Sunday matinee will be a very picante afternoon at The Old Church Theatre.
Rocker/Singer-Songwriter/Sommelier Astrid Young, Virtuoso on All Things Strings (Violin, Cello, Nyckelharpa) Saskia Tomkins & Roots/Folk/Blues Singer- Songwriter Kim Doolittle are serving up an afternoon of inspired music to Ring in the Spring at this gorgeous, intimate venue.
**Ticket includes wine tasting with Astrid in the intermission!
These women are lifetime creatives, their original music is a tapestry of three very diverse musical paths, all of them different and yet the similar in their dedication as experienced, storied women of song.  Each are independent recording artists, well versed, well traveled and authentically entertaining.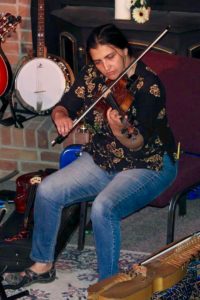 Saskia Tomkins, from the UK, moved to Ontario in 2007 with her family, bringing with them a wealth of musical talent and experience. Saskia's musical abilities on bowed strings are wide ranging, from classical to celtic, to gypsy-jazz, to songwriter accompaniment. After seeing Stefan Grappelli perform 3 times, she completed a BA in Jazz and popular music.
She has played with countless artists in many genres, including Uriah Heep's 30th anniversary concert, improvising with dancers at Sadler's Wells Theatre in London and learning cello for Michael Bogdanov and the English Shakespeare Company. She has recorded on over 60 albums for other artists and several with her own groups. Saskia is also the All Britain Champion for Irish Fiddle.
Saskia will be playing Violin, Viola and Nyckelharpa.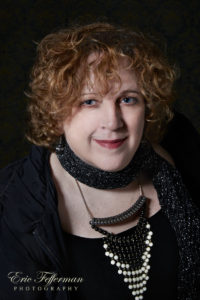 "January, 2018 marked 45 years as a Singer, Songwriter and Storyteller. Music is my life.
I love to sing, write, play and tell stories about a life I had perfectly planned. Those plans went more curly than straight, teaching me that too many plans are laughable while those curves inform my Muse.
My 9th studio album feels like my first. "Into The Blue", produced and largely co-written by Ken Whiteley is the sum of a 43 year artistic journey. It comes straight from the heart and the songs reflect a deep desire to move forward in my musical life authentically, with an eye on looking back at where it all began.
"Into The Blue" dropped April 8, 2017, charting on Stingray Music, The Blues Radio Network, CBC, Toronto Blues Society Charts, Blues and Routes Radio, and Folk Routes to name a few. The music is heavily influenced by Blues, Roots, Gospel, Folk and the varied tapestry woven at family Kitchen Parties courtesy of my native Nova Scotian childhood.
I am humbled to have been mentored by Ken Whiteley, my music could not have been placed in better hands. The songs are reflective and meant to create hope and optimism through strength, perseverance, trust and spirit. We cannot get enough of that in the world.
Gratefully, I will be out and about playing some tunes and spinning some yarns for those of you who might like to come to the shows. I anticipate putting a few miles on the RV in 2018, guitar in hand, so keep your eye on my site for dates near you and drop in and say hello. I look forward to making your acquaintance and may all your blues be the musical kind." ~ Kim Doolittle   www.kimdoolittlemusic.com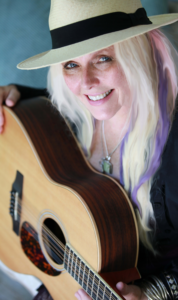 Astrid Young is a singer-songwriter with influences that range from classical to heavy rock, with a healthy dose of blues and country in between. Her discography dates back to 1984 and boasts over forty releases, from bands that she has played in, to artists for whom she has sang backup for or played with as a side-musician on bass, keyboards, guitar, or whatever happened to have been lying around at the time.
Some notable co-writes include Bernie Taupin & Martin Page, Lisa DalBello, Nancy Wilson (Heart), the late West Arkeen (Guns & Roses), and Tom Wilson. Artists she has played or sang with, either live or in the studio, include Neil Young, Ann & Nancy Wilson, Graham Bonnet, Johnny Cash, Nicolette Larson, Gerry Goffin, Graveyard Train, and Dramarama. If you're a Neil fan, you've probably heard her voice on Unplugged, Harvest Moon, Live at Red Rocks (Road Rocks Vol. 2), or Are You Passionate.
Astrid's solo acoustic shows have been compared to "Alice In Chains Unplugged", and Music Connection Magazine in Los Angeles once said she was "More closely related to Angus". She has played stages large and small, from the Whiskey-A-Go-Go in Hollywood to Paradiso in Amsterdam. Citing her primary influences as David Bowie, Pink Floyd, Kate Bush, and Black Sabbath, she plays a 12-string like it's a weapon and isn't afraid to change strings on the day of a show.
Young has released four solo albums: Brainflower in 1995, Matinee in 2002, Pokalolo Paniolo (as iST) in 2003, and more recently, One Night at Giant Rock, the acid-folk epic which was produced by Victor DeLorenzo, an original Violent Femme.
Astrid is also an author, having penned the Canadian bestseller Being Young: Scott, Neil and Me (Insomniac Press 2009). She has written several screenplays, made a film, is a certified sommelier, and is currently working on a work of pure, unadulterated genre fiction titled Haunted When The Minutes Drag.
Website is nowhere near current, but have at it anyway: http://www.astridyoung.net/