Friday August 12th @8pm
$20 in advance  $25 at the door
*The Songwriting, The Sounds, The Magic*
Chris McKhool (violin) and Kevin Laliberté (guitar), the songwriters behind 2x JUNO nominees and multiple award winning Sultans of String take you on a musical journey around the world!   McKhool met Laliberté just as the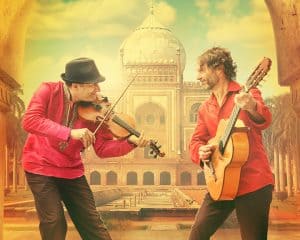 guitarist was coming off the road from touring around the world with Jesse Cook. When McKhool (who has also performed with Cook, Pavlo, Club Django) first heard guitarist Laliberté's rumba rhythm, their musical synergy created Sultans of String's signature sound – the intimate and playful relationship between the violin and guitar.
Throughout, acoustic strings meet with electronic wizardry to create layers and depth of sound, creating sound-scapes that seem impossible to be coming from just two people. Since forming 10 years ago, Sultans of String's CDs have hit #1 across Canada on Top 10 national radio charts, and received multiple awards and accolades, including 2 Canadian Folk Music Awards, 1st place in the ISC (out of 15,000 entries), a Queen's Diamond Jubilee medal (for Chris), plus invitations to perform/record with such luminaries as The Chieftains, David Bromberg, and Livingston Taylor.
Sultans of String have been criss-crossing North America for the last several years at many taste-making forums such as JUNOFest, legendary jazz club Birdland in NYC, and California's hip music scene, including the San Jose Jazz Festival. They recently sold out Koerner Hall (Toronto's Carnegie Hall), and performed with Toronto, Vancouver, Edmonton, Stratford, Ontario and Niagara Symphony Orchestras, as well with Kingsfield POPS in Maine. Sultans of String were recently filmed by MPBN's Maine Arts! in a feature concert, and performed live on BBC TV, Irish National Radio, and the internationally syndicated shows WoodSongs, World Cafe, and on SiriusXM in Washington.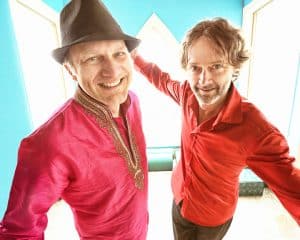 "Simply awesome!"
Mariposa Folk Festival
"What a great show and a full house on a Thursday is a first! Hope to have them back!
Sandhill Stage, Florida
"Sultans of String are so extraordinary and put on a sensational show."
Lincoln Center, NY
"You get the feeling this is Strunz & Farah or Willie & Lobo or Gypsy Kings taken to the next level of the game, sometimes all at once… a sure bet to notch a JUNO and any other award winning hardware to come its way."
Midwest Record, Chicago