March 4th @7pm    $15 in Advance  $20 at the Door


"The power of one person and one instrument – engaging and exciting in itself. I believe that's the root of folk music".
With her third album, Apartments For Lovers, Shawna Caspi taps right into those folk roots, stripping away the session musicians and elaborate arrangements of her previous records in favour of a simple, authentic sound – her solo guitar and voice. The result is a collection of songs that is close-up and honest, showcasing her warm vocals, classically-trained fingerstyle guitar playing, and intimate songwriting in a genuine, powerful way.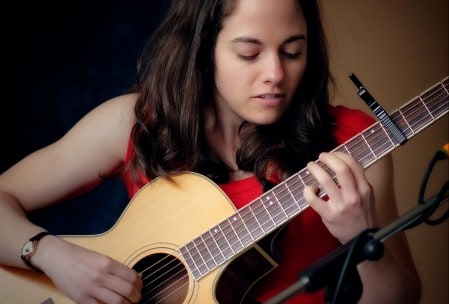 On Apartments For Lovers, Shawna creates delicate, quiet moments that are vulnerable and accessible even when she's writing about someone else. Her songs are snapshots – moments that may appear small, but which subtly carry weight and offer greater depth thanks to her well-crafted lyrics.
"Some musicians make songwriting sound less of a craft and more of a life affirming obsession. Caspi's compositions stand out as beautiful, complex and intricate…" – NOW Magazine, NXNE preview
For 15 years, Shawna has been playing the guitar she bought at the Ottawa Folklore Centre, one of Canada's best loved music stores. This cherished instrument has accompanied her on tour throughout Canada and the United States, where she has played festivals including the Blue Skies Music Festival, the Summerfolk Festival, the Deep Roots Music Festival, and the Ottawa Grassroots Festival. It was also her constant companion as she played on the long haul trains between Montreal and Halifax and between Vancouver and Toronto as part of the VIA Rail On Board Entertainment Program.
While she never had one particular musical influence growing up, Shawna found inspiration in a wide variety of independent singer/songwriters as she played and sang her way through the folk music scene. Some of these artists are now her peers, and she has shared the stage with several of her favourites, including Rose Cousins, Jon Brooks, James Keelaghan, Old Man Luedecke, Suzie Vinnick, and Garnet Rogers.
"Shawna Caspi has the rare gift of presence that immediately invites audience engagement, from the first strum of her skilled guitar playing to the last exquisite note she sings". – Andy Frank, co-founder of Roots Music Canada
From cafes, soft-seat theatres, living rooms, festival stages, and yes, even trains, Shawna is making her living singing her stories on tour. She loves the landscapes of her travels and while weaving them into her songs, she has also been portraying them on canvases. Shawna paints one-of-a-kind works of art inspired by the rich scenery she sees and makes them available for sale with her merchandise. Two of those paintings make up the front and back cover artwork for Apartments For Lovers.
Shawna's Canadian folk roots are an intrinsic part of who she is. In fact, Shawna as a solo musician is exactly who she is as a person – warm, inviting, a storyteller, a traveler, an authentic artist. "And at the heart of everything", she says, "I'm just a really big music fan".