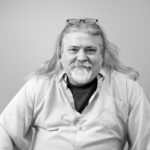 With six plays produced in less than three years, Peter Paylor has quickly become one of the Region's favourite playwrights, winning over audiences by putting likable characters in unlikely situations with a fine balance of warmth and humour. Peter lives in Belleville, Ontario where he is a founding member of the Quinte Playwrights' Collective and an ardent supporter of local theatre and the arts. His plays have been produced by the Belleville Theatre Guild, The Old Church Theatre and the River & Main Theatre Company. Three of his plays have been presented at the Eastern Ontario Drama League's One-Act Play Festivals including the Old Church Theatre's production of "Tea with Roger" which received the Audience Choice Award for Favourite Play in November, 2017.
Fees:
Amateur Performance Rights  are $35 for the first performance and $30 for each subsequent performance for one play. For three or more plays, $75 for one performance and $65 for each subsequent performance.
Professional Performance Rights are by inquiry.
Available Plays:
FOUR CRIMINAL ACTS is 'The Green Thumb Gang', 'A Generous Gift', 'Maybe Flowers' and 'Tea with Roger' for which performance rights may be purchased together or individually.
THE GREEN THUMB GANG
Characters:
Mr. Doherty (M 30-55)
Detective Barnes (M 30-55+)
Edith (F 60+)
Gertrude (F 60+)
Edith and Gertrude venture out from their retirement home most mornings for a walk—at least that's what they tell Detective Barnes when Mr. Doherty comes home to find that they've walked right into his upscale apartment and Detective Barnes arrives to find the two ladies all tied up. They say they're only there to water the plants, but what's Edith doing with Mr. Doherty's laptop under her arm? And where's Lady Muffintop? She's strictly an indoor cat. She's not in the bag, but something is and it's the answer to all the Detective's questions. Well…except one. What is causing the brown spots on his schefflera?

A GENEROUS GIFT
Characters:
Mr. Ulrick (CEO of Ulrick Energy)
Ms. Shaw (Mr. Ulrick's secretary)
Mr. Ulrich has some ideas for facing life as a CEO without Ms. Shaw, but his longtime secretary has ideas of her own. Beginning with the perfect retirement gift from her boss – after all, those are the little details she's always handled for him. It's a generous gift, but after everything she's done for the company, she deserves it. Or does she? Mr. Ulrich wonders if she doesn't deserve to be put in her place. She wonders if she doesn't deserve to be put in his.

MAYBE FLOWERS 
Characters:
Arthur
Constance
Constance inherited the family fortune; Arthur just inherited the family business. She's filthy rich; he's a dirty crook. But money can't buy everything, and when Constance hires Arthur to steal what she can't have, they discover that they have much more in common than they would have thought and much more to say to each other than they really should…especially in the middle of a heist.

TEA WITH ROGER 
Characters:
Mavis (60+)
Joan (65+)
Roger (Normally a charming cad but in this play just the muffled, incoherent voice of a man bound and gagged in a closet)
Joan and Mavis may be best friends but Joan hasn't seen Mavis since Mavis met Roger. So an invitation to tea comes as a bit of a surprise to Joan. Not nearly as big of a surprise as the wedding invitation she got in the mail or the exotic new tea Mavis is serving or the strange sounds coming from the closet. What is that noise? Could it be raccoons? Or badgers? One thing's for sure, Mavis won't be honeymooning in Sudbury any time soon…not with all that noise.

THE ROSEWOOD ART SOCIETY, ESTABLISHED 1903
Characters
(Ideally 60+)
Andrew
Helen
Jane
Alice
Walter
Charlotte
The executive committee of the Rosewood Art Society is meeting and there's plenty to discuss – there's the cobweb issue and the ongoing debate over buying a new mop. Everyone has an opinion, except for Charlotte. Charlotte's been on the executive committee for as long as anyone can remember, but she's usually so quiet, no one even remembers that she's there. Until the Town Council threatens to restrict the freedom of artistic expression in Rosewood by closing an exhibition of nude art and…well…Charlotte's got something to say about that. Not everyone is ready to take part in the fight…after all, there are male parts in that show…but Charlotte has a plan.

THE MAN IN 2B
Characters
(Four friends in their mid-20's to late-30's)
David
Michael (David's live-in partner)
Paul (David's ex)
Kate (Michael's ex)
David and Michael live in Apartment 3A. David works at home. Michael plays squash every Saturday with his best friend, Paul. To Harold they're "the boys upstairs". To David and Michael, he's just the man in 2B. To Harold, they play a big part in his little life. To David and Michael, he's just the old guy who hangs around the lobby. Maybe he has something to say once in a while. Didn't he say something about his sister one time? When the boys upstairs find themselves face to face with the man himself, the real man himself, they find that there's much more to the man in 2B than they ever would have expected.

MORE THAN ENOUGH FRIENDS
Characters
(Four friends 40-65 but all roughly the same age)
Alan
Liz (Alan's wife)
Suzie (Alan's "sort" of old friend)
Katie (Alan's other "sort of" old friend)
Liz and her old friends are planning a trip…a cruise…through the fjords…with their spouses. But the only thing Liz's husband hates more than cruises and fjords is old friends. Alan doesn't have old friends and he likes it like that. He has more than enough friends…there's…well there's that school teacher next door and…well…there are always his imaginary childhood friends. The only problem is that he can't even remember the schoolteacher's name. And those imaginary childhood friends? They're all grown up now with problems of their own. And when they come knocking on his door looking for help, all of a sudden a cruise through the fjords doesn't sound all that bad.