When:
August 15, 2019 @ 6:00 pm
2019-08-15T18:00:00-04:00
2019-08-15T18:15:00-04:00
Where:
Old Church Theatre
940 Bonisteel Rd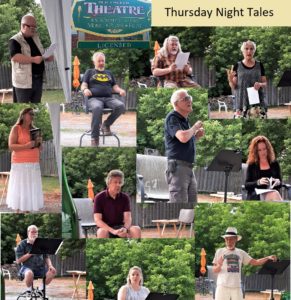 Stories are the back bone of our culture. Everyone has at least one great story. Would you like to hear some and more importantly, would you like to tell yours? Whether you've admired the radio spots of Paul Harvey, Stuart MacLean or Terry O'Reilly or the tall tales of your great uncle Bill or your favourite hair dresser, a good yarn puts our common humanity on full display. It's your turn now.
Here at the Old Church we're going to dedicate a couple of evenings per month to the stories that make up the fabric of our experiences. Make some notes, rehearse, embellish, practice your gesticulations or fire straight from the hip. We're doing this Open Mic style, everyone takes 5 or 10 minutes. Read a passage from your great Canadian novel or your newest play. Any work in progress is welcome. Even if you have a favourite that isn't your own; a poem, a bit of movie dialogue, song lyric or a ghost story, have at it. We have all and sundry refreshments if you require a 'wee nip o'courage' to get you going. We start August 1 at 6:00, outdoors under the tent with wood fired pizza available, weather permitting. If it's raining we'll just move indoors.