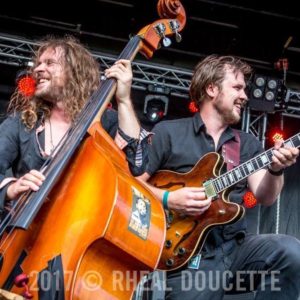 Weber Brothers Return for Stripped-Down Duo Performance. Roots rockers The Weber Brothers, acclaimed for their undeniable musical talent and highly energized, awe-inspiring performances, have forged quite a reputation over their 17+ year career.
On Friday, August 24th, the brothers return to Trenton for a head-to-head duo show at The Old Church Theatre.
Ryan (bass, vocals) and Sam (guitar, vocals) have traveled relentlessly, shared stages with rock royalty, and recorded studio work with the likes of Gordon Lightfoot, Kris Kristofferson, Ronnie Hawkins and Willie Nelson.
"The two of us have been playing music together all our lives," says Sam Weber. "When you've done that much together, it becomes kind of telepathic in a way.
You know what to do without saying too much. Over the years we've played with some amazing musicians, dozens of incarnations of the band. But the common thread was always me and Ryan."
2016's feature documentary "Before We Arrive: The Story of the Weber Brothers" , tells of their tumultuous journey through the hard-luck world of music. From their early days under the tutelage of rockabilly legend Ronnie Hawkins and his fabled "Rock n Roll Bootcamp", to countless tours across countries and oceans, the brothers' work ethic and unspoken chemistry always shine through.
"It's always been important to us, recording or performing, to keep evolving, to try something different. While the duo act is kind of where it all began, it's also a chance to develop material we haven't done that much live. A different approach. A little more raw. Just two instruments and two voices. Embracing the space."
As evidenced by 12 independent albums, and their legions of loyal fans across the country, The Weber Brothers always deliver a powerful performance.
"I think it has a lot to do with how we came up. Ronnie Hawkins really instilled that. You have to play, practice and work hard. It's a responsibility in the end.
Good enough isn't good enough," adds Sam. "There are a lot of awesome people who believe in what we're doing. We owe them our best."