The year 1837 was not a happy time in Upper Canada. The young colony was going through some serious growing pains that eventually erupted into open Rebellion. History seems to have made little of this affair. But if you look a little more closely you will find that political dissatisfaction was widespread and particularly violent in our own area.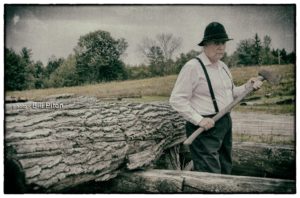 Pierre Lesage was one of those early settlers who were caught in the middle of the turmoil. Arrested for treason, he is eventually acquitted with the help of a young lawyer by the name of John A. MacDonald. Pierre recounts his experiences and, in doing so, helps us to consider the legal foundation of a colony and the role of those who saw themselves as ordained to rule, and those who find that rule contrary to their principles of justice.
Pierre's great-great-great grandson, Mark Lesage, decided to make a dramatic retelling of the circumstances surrounding these events and the times in which they occurred. Be forewarned, this is not an objective historical narration. Pierre will recount his experiences complete with all the sectarian and political prejudices of the age. So, if you're ready to "get your Rebel on!", join us at the Old Church Theatre for this new, very Canadian play.