The Old Church Delinquents (OCD) Jam Band will be at it again Sunday September 9th, 2018.
You've seen them play the Blues…You've seen them play R n B and Soul…Now, for the first time (and maybe the last), see and hear them play great classic rock favorites on the "No Hard Feelings Tour". Yes, Rett is actually going to play classic rock.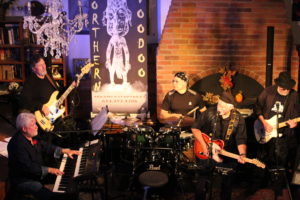 The Old Church Jam Band still features keyboard master Stevie C, the great rhythm section of Mickey Ace on the bass and Big Eddie on drums. Also the twin-guitar attack of Campbell and Wills.
From 2pm – 4pm Sunday September 9th 2018. Doors open at 1:30….seating is limited so come early.
It's a pass-the-hat event…suggested $10 per person.'