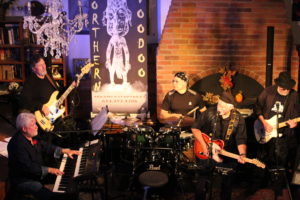 Rett Wills,  Mike 'Ace' Acerra and Ed Quinn are Northern VooDoo. Join them and their special guests at our Sunday afternoon blues series.
"We want to change-up the guests, sound and tunes, so each date is fresh and different." Rett says. "That way when people come out a second and third time, they see and hear something new. Our first shows had the audience up and dancing."
Feb 11th's Sunday Church Blues features  Tim Campbell, Mark Smith and Steve Coupland.
March 11th's featured guests TBA.
This is a 'pass the hat' event to support the musicians (suggested donation $10)