When:
October 19, 2017 @ 7:30 pm
2017-10-19T19:30:00-04:00
2017-10-19T19:45:00-04:00
Where:
Old Church Theatre
940 Bonisteel Rd. Trenton ON
Cost:
$15 in advance $20 at the door
SHARPEN THE ACTS
PART II
Each performance, three original one act plays.
Experience three curated plays by local writers in a unique, rural venue.  Our MC for the evening is Peter Snell.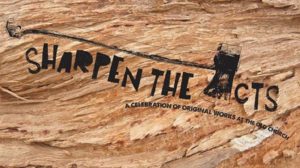 THE UNDOING OF BILLY SLIM   written by Conrad Beaubien, directed by Lisa Morris,  starring Sydnee Wilson and Darren Moore
 " The King is Dead" … The King of door to door that is.  A mentor to Alfie and something different to kin, Francine.  How much do they have in common?  Only time will tell.  
LAST REFUGE    written by Matthew Sheahan, directed by Mihal Zada, starring Heather Barker, Leah Snyder and Trevor MacPherson 
Two survivors of a ghastly epidemic take refuge in an abandoned church. Except it's not so abandoned. And what's inside might be worse than what's out there.
MAYBE FLOWERS  written by Peter Paylor, directed by Lesley Bonisteel, starring Matthew Sheahan and Victoria Farrell
Constance and Arthur couldn't be more different. She's got enough money to buy whatever she wants; he's a burglar down on his luck. But when what Constance wants isn't for sale and hires Arthur to steal it for her…well…maybe they aren't so different after all.
Performances:
Thursday, October 19th, 7:30 PM, Friday, October 20th, 7:30 PM and Sunday, October 22nd, 2 PM
$15 advance, $20 at the door