*POSTPONED TO SEPTEMBER*
Mimi has been performing music since the young age of 7 years old when she performed the national anthem at the parliament of Canada for Prime Minister Jean Chrétien. From there, she began establishing her own events as well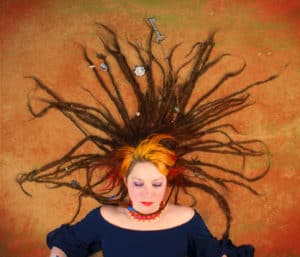 as participating in local telethons and talent shows.
Inspired by her roots as an indigenous and French-Canadian woman, she began writing at the age of 14 and performing in more areas around Ontario, Canada. By the time she turned 17 she started crafting her debut album with a Canadian music producer which was officially launched in 2014. She received airplay on radio, sold out CD release concerts and over the last few years she has been establishing her roots as a songwriter and performing at festivals such as MIDEM (in Cannes, France), Beaches Jazz Festival, and Northern Lights Festival. On top of her quick success, she also received award nominations from NOMFA.
WORKSHOP 2pm
TICKETS TBA
A discussion of the healing powers of music as it is our human language that speaks to the 3 bodies and a discussion of music within the Canadian indigenous culture. Afterwards we move into a human music experience, where we play around with voices, sounds and vibration and together we will all benefit from the healing properties of expressing ourselves with song. Throughout the workshop we explore story telling and how it is the narrative of our existence and the base of all artistic expression including songwriting. All this with a underlying theme of empowerment and identity. The cost of the workshop includes a meal… That way you can more easily stay through for the concert!
CONCERT 6pm
TICKETS TBA
We'rs so happy to have Mimi return to the Old Church Theatre. Mimi will be joined again by band mate Dave Patel on Drums and this time bringing and Ian De Souza on bass. It'll be an intimate concert to showcase new works collected over the past year as well as favorites from Mimi's two records.
Mimi will also bring along some of her handmade jewelry and paintings so you can check out her other artistic endevours!