Love & Addiction – the songs and stories of "Cousin" Gibbard Suede
An eventful evening of live musical theatre you will never forget!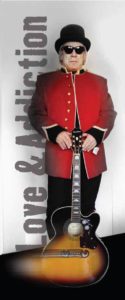 You can expect:
Outlandish Stories
Terrible advice on love
Beautifully Crafted Songs
The violin magic of Al Duquette (fiddler  extraordinaire)
Audience Participation
"Cousin" Gibbard Suede, forever the consummate live performer. Once he stands up to the microphone and bares his heart and soul, you are sure to be magically drawn into his complicated world of love and loss, heartbreak and hope, addiction and redemption.
You might even feel a sense of compassion for the frailties of a life less than perfect.
And just who is "Cousin" Gibbard Suede?
Video courtesy Val Teodori and the Side Door Coffee House
Roger Dorey –  www.rogerdorey.wordpress.com