A Nigerian acoustic guitarist and singer/songwriter currently based in Toronto, Kunle's folk and soul music bridges contemporary styles with roots in West African rhythms and stories. Kunle brings together his rich vocals, unique guitar tapping, harmonica and talking drum to take audiences into what he terms 'music with no boundaries'.


Get Tickets

Kunle is thrilled to be returning to Old Church Theatre to share music from his newest project, called "Freedom".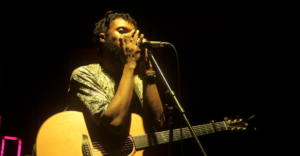 Drawing from his personal experiences and what he sees in the world today, Kunle's songs explore what it means to be free in all senses of the word — freedom from racism, freedom from mental health issues and the freedom to explore your dreams and live your values.
This summer, Kunle can be found playing Summerfolk Music Festival in Ontario, Playing the Park Music Series in Toronto and Africa Day festival in Hamburg Germany. Kunle has previously performed at Mariposa Folk Festival, Blue Skies Folk Festival and Peterborough Folk Festival. Kunle's song "My Little Fingers" was awarded for best instrumental by Folk Music Ontario in 2015.