It's a long, hard road – figuratively and literally – from a teaching job on a southern Alberta First Nation's reserve to a Juno-nominated roots music career with performances at The Kennedy Centre, The Smithsonian, and Trafalgar Square, but he wouldn't trade the journey for the world.


Get Tickets

Born in Jersey, Channel Islands and raised in Southern Alberta, John earned degrees in Native American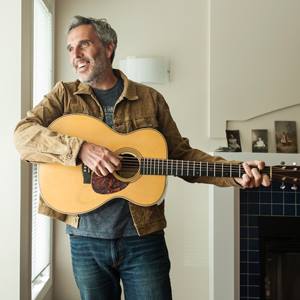 Studies and Native Education and taught Grade Nine on reserve for five years.  He decided he wanted to pursue a career in music after hearing Loudon Wainwright III in 1997.
Now a prize-winning songwriter and performer touring internationally, John Wort Hannam is known for his unique take on the simple day-to-day dramas of common folk through songs that map the landscapes of both the human heart and this vast country of ours.
John is accompanied by Scott Duncan on this tour and we're happy they have included the Old Church Theatre as one of their stops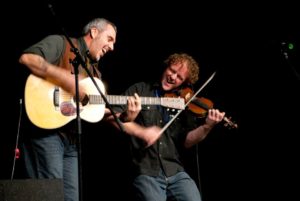 .
With a keen eye for the quirky and lyrics that create stories behind the songs, this born storyteller shares the personal and the profound.  Thriving on live performance, John Wort Hannam is truly happy when he is on the road playing and connecting personally with an audience.
Since quitting his teaching job in 2002, John has released six albums, performed with the Calgary Philharmonic Orchestra, and written official song for the 2011 Alberta Winter Games.
He won the prestigious Kerrville New Folk Award in 2007.  He's been nominated for three Western Canadian Music Awards, a North American Folk Alliance Award, and three Canadian Folk Music Awards – winning in 2010 for Contemporary Album of the Year.  He also earned a 2010 Juno nod for Roots and Traditional Album of the Year – Solo, and he has three times won the Grand Prize in the Calgary Folk Festival Song Competition.