3X Maple Blues Award Winner Harpdog Brown and Sugar Brown
are coming to church!
Harpdog Brown is a gifted vocalist and an imaginative harmonica player.  He is a three-time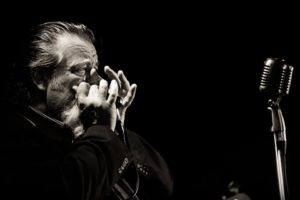 Maple Blues Award Winner (2014, 2015 and 2016), Fraser Valley Music Award Winner, three-time Western Canadian Music Awards Nominee, Juno Nominee and the only Canadian to win the coveted Muddy Award. In 2016 he was nominated for 3 Maple Blues Awards (Harmonica Player, Male Vocalist and Album of the Year) for his latest release Travelin' With The Blues. The album features a duet with Charlie Musselwhite and was produced by the Beale Street Blues Bopper himself, Little Victor with guest appearances from Kid Andersen, Big John Atkinson and more.
Born in 1971 and raised in Bowling Green, Ohio, Sugar Brown was born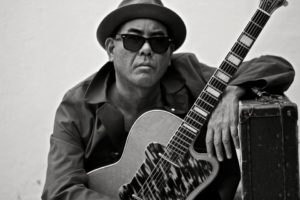 as Ken Chester Kawashima to a Japanese father and Korean mother who both immigrated to the United States in the mid-1960s. Now a permanent resident of Toronto, Canada, Sugar Brown is a modern blues musician, singer and songwriter. His brand of dark, sweet, and inconsolable blues has caught the attention of the Canadian music scene, winning the 2013 Toronto Blues Society Talent Search and quickly receiving invitations to play at the Kitchener Blues Festival and the prestigious Mariposa Folk Festival in 2014.
HARPDOG BROWN HAS BEEN CALLED A BLUES EVANGELIST:
And Blues Evangelist is a very fitting moniker. "I speak the blues like it's the truth, and it is" he was recently quoted. "I do feel like I'm a servant of the people. And I do heal people if they pay attention to the good messages in the songs I choose." He delivers those messages in the traditional sound of early electric blues. Think of the old Chess Records and Sun Records of the late 40's and early 50's. Harpdog says "Blues has a healing power. It's a beautiful celebration of our perfectly flawed lives. We help people forget about their issues of the moment and then they realize that we all have our issues, and that's ok."
Vancouver-based Harpdog Brown was born in Edmonton in 1962, an adopted child who has felt somewhat detached his whole life – "a lifelong battle of not feeling like I belonged. I think I was born for the circus, you know, born to travel. The blues tapped me on the shoulder years ago and said 'this is where you belong, son'. So the blues became my circus and there's no better way to travel than with a classic blues band!"
His recent album release Travelin' With The Blues has hit numerous roots and blues charts including Living Blues and holding steady in the top five Classic Blues Albums on Roots Music Report for North America. This follows his Top 20 charting 2014 release What It Is (Roots Music Report International Blues Albums).
SUGAR BROWN:
Sugar Brown's blues originated while studying as a college student at the University of Chicago. By day, he studied history, political economy, and philosophy; by night he learned to play the blues from Chicago's famed West Side blues raconteur and singer, Taildragger, as well as from blues legends such as Dave Myers and Willie "Big Eyes" Smith, the late drummer of Muddy Water's band. Sugar Brown's blues were shaped by playing the small clubs and venues along the West Side of Chicago, where the sounds and memories of past blues greats like Muddy Waters, Howlin' Wolf, Little Walter, Jimmy Reed, and Magic Sam were still very much alive. Taildragger's band, The La-Z Boys, played this style of blues every week at the 5105 Club and every weekend in the summer months at the now defunct Delta Fish Market, originally a gas station that was renovated in the 1970s into a fish market (with fish transported fresh from the Mississippi delta) with live blues music. There, in the parking lot, Sugar Brown played harmonica on a large, red-painted stage behind Taildragger and before delighted, dancing audiences of the West Side of Chicago. Since the 1970s until the late 1990s, the Delta Fish Market hosted performances by the likes of Sunnyland Slim, Eddie Taylor, Taildragger, and even Lightnin' Hopkins. For Sugar Brown, playing at the "Fish Market" was better than heaven on earth and it changed him and his thinking forever.
(The Delta Fish Market sadly went out of business in the late 1990s. In the 1980s, however, Dutch television accurately captured on film the scene at the Delta Fish Market, including live footage of Honeyboy Edwards, Eddie Taylor, Taildragger, Detroit Jr., Johnny Littlejohn, and others, here.
Taildragger is responsible for giving Ken the stage name Sugar Brown in 1992, saying to him, "You ain't black…..and you sure ain't white….You're Sugar Brown." (Taildragger's first two proposals for Ken's stage name were "Japanese Boy" and "The Korea Kid", both of which Ken vetoed outright, claiming he was in a blues band not an early United Nations delegation.) After Taildragger was imprisoned for shooting and killing fellow west side bluesman Boston Blackie in 1994, however, Sugar Brown left Chicago to pursue a Ph.D. in modern Japanese history under the supervision of intellectual historian, Professor Harry D. Harootunian. He moved for several years to Tokyo to study Japanese language and history, but couldn't stop playing and singing the blues. He studied during the day and played blues at night as a regular performer in one of Tokyo's best known blues bars, Bright Brown.
Since completing his Ph.D. in history from New York University in 2002, Sugar Brown has been living and working in Toronto. By day, he studies and teaches at school, now as Associate Professor of East Asian Studies at the University of Toronto.