Considered among the top harmonica players in the country, we are fortunate to have Al Lerman coming to the Old Church for a summer,  Sunday afternoon workshop.  An experienced played and instructor, he tailors his workshops to the ability of the students and you'll find Al offers a lot of  insight that can be applied to any instrument.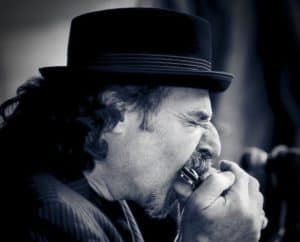 Al Lerman taught a blues harmonica course in Toronto for 18 years and also taught at the Hornby Island (BC) Blues School.
A basic outline of what you'll learn is:
-how to play single notes
-how to "bend notes"
-which keys to use
-playing in more than one key on any given harmonica
-what is the basic blues progession…..and much more!
You will need to bring any 10-hole diatonic harmonica in the key of "C". Brand names would be Hohner Marine Bands, Special 20, Blues Harp, Big River, Lee Oskar harmonicas, Suzuki Manji etc.