Laureates of Canadian francophonie and semi-finalists at the 2016 Festival international de la chanson de Granby, bilingual folk duo Georgian Bay entices audiences with scintillating harmonies and dreamlike melodies. Nominated for a 2016 Polaris Music Prize, their sophomore album, Patience, is inspired by the mysterious beauty of natural spaces. Spinning tales of modern Canadiana, the voices of Kelly Lefaive and Joëlle Westman intertwine with the soul of the violin and the heartbeat of the guitar to create an enchanting musical voyage to the shores of Spirit Lake, Georgian Bay.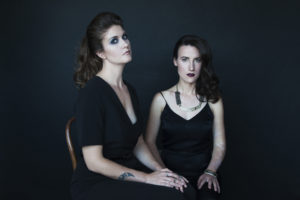 Georgian Bay's unique mystic-folk sound has been heard throughout Canada since the release of their first album, Horizons, in 2014. Performance highlights from 2016 include an Ontario-Québec CD release tour, the Home County Music and Art Festival, and the Mariposa Folk Festival.
Tickets are $20 if you are able, but Joëlle and Kelly want to make sure no one misses out and are offering a Pay-What-You-Can option.  Please book  in advance online.
​