When:
January 19, 2019 @ 7:30 pm
2019-01-19T19:30:00-05:00
2019-01-19T19:45:00-05:00
Where:
Old Church Theatre
940 Bonisteel Rd
Cost:
$20 advance - $25 at the door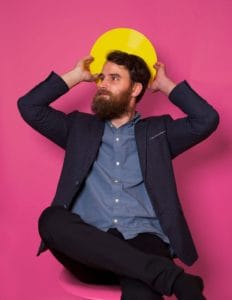 My Father's Son, an indie folk song-writer from Montreal, QC, melds together intricate lyrics with the richness of simplified, acoustic sound. Singer/songwriter Mark Kulmala released his first album, Heart of Wood, in the fall of 2018.. The album's themes of fleeting innocence, love's lost and found, determination, and the simple beauty of the landscape are sure to resonate with listeners. Having played in varying bands, in a variety of genres, over the years this endeavour sees a paired down amalgamation of lived experiences, both personal and musical, poetically creating emotionally complex but subdued, reflective songs. An air of storytelling colours the music with sentimental and wholly relatable verses that immerse the audience in the beauty of shared experiences.
From festivals, to large halls, to living rooms – My Father's Son has shared the stage with some of Canada's best artists.
Ben Caplan and the Casual Smokers – Townehouse Tavern (presented by Northern Lights Festival Boreal) in Sudbury and at Loplops in Sault Ste. Marie
Dylan Menzie – Guelph, ON
Joey Landreth – Songwriter Series in Barrie, ON. Hosted by Chas Hay
Craig Cardiff – London, ON – London Music Club
NQ Arbuckle and Zachary Lucky – Gravenhurst, ON – Sawdust City Music Festival
Leyla McCalla – London, ON – Aeolian Hall
Belle Star – Toronto, ON – The Dakota Tavern
SloCan Ramblers – London, ON – Aeolian Hall
Carl Dixon (April Wine, The Guess Who) – Gravenhurst, On – Gravenhurst Opera House
Skydiggers – Picton, ON – The Hayloft
My Father's Son joined Toronto super-group, Dead Flowers, for their set at the 2017 Hillside Festival.
My Father's Son is currently recording his sophomore album with Paul Pfisterer (The Beauties, Laser, RHYE) at Freckles Farm Studio in Mono, Ontario. The album features Broken Social Scene's Lisa Lobsinger and is being mixed by Dean Nelson, who previously worked as Beck's day-to-day audio engineer. Broken Social Scene and Stars FOH Engineer, Marty Kinack, is mastering the record. "The Greatest Thaw" will be released in June, 2019.