Citizen Jane is a Canadian folk-pop duo that evocatively weaves powerful vocal harmonies with innovative string textures to create an emotionally charged soundscape. Hailed a "delight" by Folk Radio UK, Reenie and Lea spark a uniquely intimate connection with all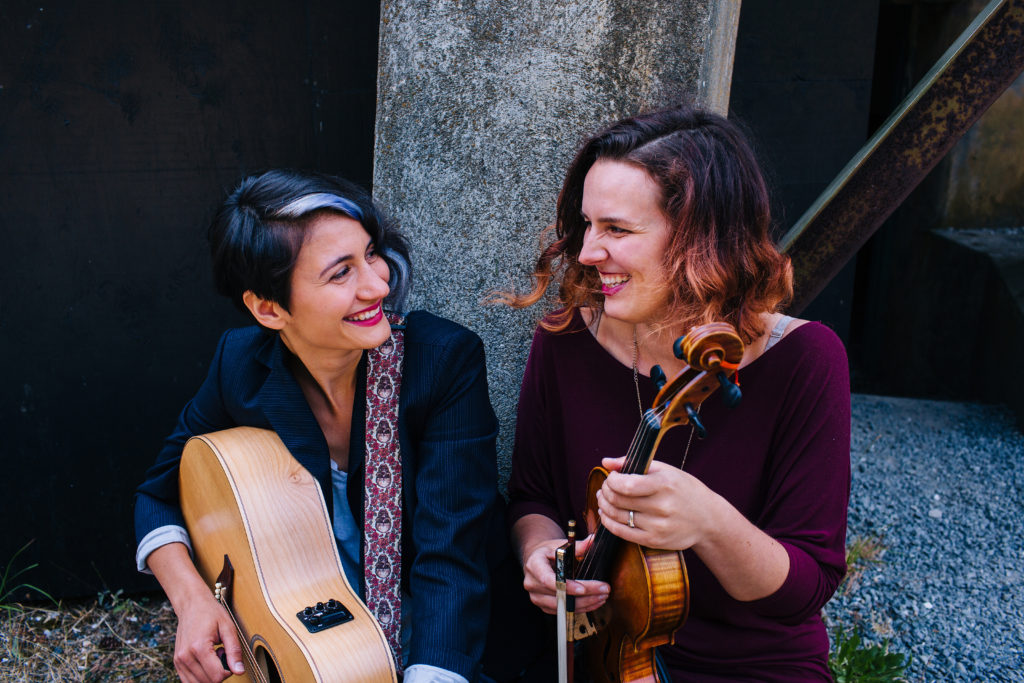 audiences.


Get Tickets

Their debut album, In the Storm (Oct 2017), is a reflection on the value of human connection, touching on themes of war (internal & literal), displacement/isolation, self-doubt.. and an urge to
embrace differences, unite, and act with love to make the world a little brighter. From sweet, hopeful viola & guitar melodies, to darker mandolin & cello musings, each song takes on a new character in their sonic journey. "exquisitely performed… an accomplished chamber folk-pop album of grace and elegance"
–  Folk Radio UK
Though primarily a song-driven project, CJ is delving into the fiddle world with a couple of
instrumental tunes as well. Brought to life by mixing engineers Adrian Dolan
(The Bills, The Wailin' Jennys) and Jon Kaspy (Emily Rockarts).
The duo consists of married couple Reenie Perkovic (vocals, guitar, mandolin) and Lea Kirstein
(viola, fiddle, cello, vocals), who met while studying classical music on the west coast of
Canada. The ladies have since made a home in Toronto's vibrant music scene, as well as doing
multiple cross-Canada tours.
Reenie grew up in the Toronto area, after her family escaped the civil war in her birthplace,
Sarajevo, Bosnia. She then moved out west to study percussion and composition at UVic,
where she wrote contemporary classical works that were read by the Victoria Symphony, and
ECM+. While studying, she continued to play guitar and lead pop bands, booking small tours
and playing festivals. Reenie was a semi-finalist in the 2016 UK Songwriting Contest, and has
released 3 solo albums. She has opened for Juno-nominated Alysha Brilla, and Annabelle
Chvostek (Wailin' Jennys).
Lea is an acclaimed violist and fiddler, who grew up in Victoria, BC, where she studied viola and
music education at UVic. Classical musician by day and fiddler by night, Lea discovered new
ways of melding the two styles into one. Her passion for these genres took her across Canada
& the U.S. with the Folk Arts Quartet. She has recorded with Juno-nominated artists Oliver
Schroer and Teresa Doyle.
The duo is passionate about building community & education, and frequently offers workshops
at schools, camps, and festivals.