Award winning singer songwriter Cheryl Casselman was born in Oshawa Ontario, and grew up in Newcastle. Her family lived in the same home for most of her childhood where she grew up fishing, milking cows, climbing cliffs and catching fire flies.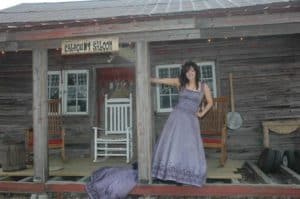 Make Reservations
Her parents were sailors and adventurers, so they often found themselves, out on open water. Both of Cheryl's parents sang and gave her passion for music. She started writing at a young age, and can remember waking up from dreams with entire songs to write down.
She recalls seeing Buck Owens sing, at Ontario place when she was 8 years old, and got the fever to perform. At 17 years old she hopped on a bus and traveled out west and lived in a log cabin in the mountains, where she started her writing career.
Cheryl adds "I love to write songs, and I am usually singing about my life, sometimes I write from someone else's perspective, which can be heart wrenching too. Some of my songs are sad and they make me feel better about the situation. I think that's one of music's principal objectives."
On May 25th Cheryl will be accompanied at the Old Church by Al Kirby, Howard Baer and Rick Tasson so it looks like we can expect an amazing show!