When:
October 13, 2018 @ 7:30 pm
2018-10-13T19:30:00-04:00
2018-10-13T19:45:00-04:00
Where:
Old Church Theatre
940 Bonisteel Rd
Cost:
$20 advance - $25 at the door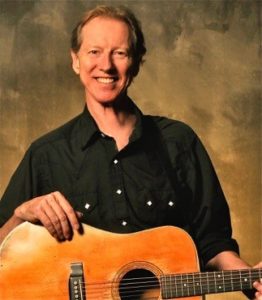 Award-winning songwriter and touring folk-roots artist, Alan Rhody released his tenth album collection, "Farther On" April, 2017. The new disc includes co-writes with Guy Clark, Murray McLauchlan and others, plus a feast of solo works.
Over his prolific career, Rhody has played thousands of shows and recorded with greats such as John Prine, John Hartford, Sam Bush, David Rawlings and Maura O'Connell. His music has been featured on NPR's "Morning Edition" and "All Things Considered." And he's made numerous network TV appearances in the U.S. and Canada.
His five most recent albums are available on CD. He's also had poems and lyrics published in "Filtered Through Time," an anthology drawn from forty-seven writers from around the U.S. reflecting on the 150th anniversary of The Civil War. The book is available at concerts and at his website.
A Louisville, Kentucky native, Rhody's music has also been recorded and popularized by a diverse list of artists that includes: Oak Ridge Boys (#1 country classic, "I'll Be True To You" 1978), Lorrie Morgan ("Trainwreck Of Emotion" 1989) Del McCoury (#1 bluegrass "Trainwreck Of Emotion" 1991). Lee Greenwood, Tanya Tucker and Toby Keith have all recorded his "Christmas To Christmas (1985, 1988, 1990 respectively)." Other artists who've done Alan's compositions include: Murray McLauchlan, Lunch At Allen's, The Good Brothers and Ricky Van Shelton, Hoyt Axton, Kevin Welch, Atlanta Rhythm Section, Lynn Anderson, George Jones, Michael Cleveland & Flamekeeper and Michael Martin Murphey.
But as Rhody often mentions during his performances, "Royalties don't last forever, as many may think. It's all about current activity. I was very fortunate to have landed with a great publisher in 1976, staying with them for ten years. But performing has always been what I love to do best and is also what has kept me going over the years."
In addition to his music, Rhody, is also an accomplished painter and a graduate of The Art Center School, University of Louisville. He's won a few awards in painting over the years and exhibits whenever possible and usually has hand-painted T-shirts available at his performances. His website includes an Art Page with a few samples of his work.
www.alanrhody.com
"Music City troubadour Alan Rhody has a new CD titled Farther On. It features his songwriting collaborations with Guy Clark, Murray McLauchlan and Don Henry, as well as a feast of solo works. Not the least of which is his No. 1 hit sung by The Oak Ridge Boys in 1978. Rhody's guitar-vocal version is stunning, revealing just how powerful the original, long version of the song really is. This fellow is one of those rare individuals who can hold you completely spellbound with just his axe and his voice." -Robert K. Oermann, music critic, author, historian.