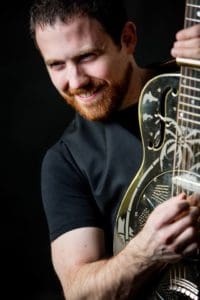 It is no exaggeration to say that Michael Schatte (pronounced SHAW-tee) has emerged as one of the most compelling guitarists and singer/songwriters on the North American roots music scene. Since early 2015, when he was a top-eight finalist at the Memphis International Blues Challenge and performed at Tennessee's historic Orpheum Theatre, Schatte has appeared on some of the continent's best festival and theatre stages, winning new fans and a reputation for world-class musicianship by way of more than 200 concerts in Canada and the United States. Though Schatte loves the blues (and evidently does it well), it's just one ingredient in what he calls Eclectic Electric Roots Music, a brew of original rock, blues, celtic, bluegrass, country and rockabilly he's been writing, recording, and performing throughout his career.
This unique blend of genres is delivered with stunning impact on his latest studio album, Turn Back the Vikings. Recorded in his home base of Toronto and mixed in Austin, Texas by Simon Tassano (the live and studio engineer of choice for folk-rock legend Richard Thompson, whose Sam Jones is the sole cover song on Vikings), the new album is Michael's finest work to date, prompting Britain's Blues Matters! magazine to call him "one of the best undiscovered songwriters of our times." Intelligent lyrics, hook-filled arrangements, and Schatte's rich singing voice certainly have a way of capturing attention, but it's his work on a certain six-string plank of wood that ties it all together musically.
A respected and fiery guitarist, Schatte has developed the habit of leaving audience jaws agape. He's been compared to world-class players decades his senior, and counts Peter Green, Danny Gatton, Albert Lee, Mark Knopfler and of course the aforementioned Richard Thompson as major influences on both his electric and acoustic fingerstyle playing. Reviewing a recent concert at Aeolian Hall in London, The Beat Magazine described Schatte as "one of Canada's best-kept secrets and certainly one of its most skilled rock performers," citing his "masterful manipulation of the guitar" and a vocal style "as polished as his picking."
Jaw dropping guitar and vocals with grooves that live forever!

Shawn "Deepwater" Dore is a solo artist that performs a folk blues / country blues type mix of covers (Robert Johnson, Booker White, Muddy Waters, etc.) as well as a great selection of originals from his solo album "Less is More", and from the "Watch My Back" album recorded with the Shawn Dore Band.
Also having the ability to involve and connect with the audience, you will surely leave a Deepwater Dore show with a lasting impression.
*Shawn was a competitor representing the Loyal Blues Fellowship at the 2014 International Blues Challenge in Memphis TN, and was one of the acts selected for a showcase performance on Beale Street in Memphis.
"Shawn Dore is a musician, who's passion shows through, as he plays and sings with reckless abandon every time he hit's the stage."
-Erin McCallum,
musician, winner of the 2012 International Songwriting Competition, 2 time Canadian Maple Blues Award nominee, 2 time Ontario Independent Music Award nominee.